Moonlight Magic Party at our Denver shop with Rue De Seine
Just a few weeks ago, many of our current and future #aandbabes joined us for our Rue De Seine 'Moonlight Magic' wedding dress collection launch party at our Denver bridal shop location. Our a&bé Denver bridal shop was one of just three bridal shops in the US to have the pleasure of hosting the insanely talented wedding dress designer and #girlboss of Rue De Seine, Michele for the entire weekend. The new wedding dress collection is seriously any bride's dream, from the most boho-chic bride to the modern romantic bride!
The minute we unboxed these gorgeous bohemian wedding gowns, we grabbed the amazing, fun, gorgeous and oh-so-talented ladies from Fierce45 Denver to play dress up with us. To get them photo-ready, Elizabeth from the Storybrick salon completed their bohemian bridal look to perfection. Then we sent them along to photography genius, Anna Boardman to capture some amazing moments at our new favorite intimate location, Fig & Yarrow that is right here in our neighborhood! Brides - if you are looking for a place to host a spa day for you and your bridesmaids, throw a private wedding rehearsal dinner, or have a small, intimate wedding ceremony, you have to check out this space. (Or just drop by to stock up on your favorite beauty products. The Moon Mist is seriously heavenly).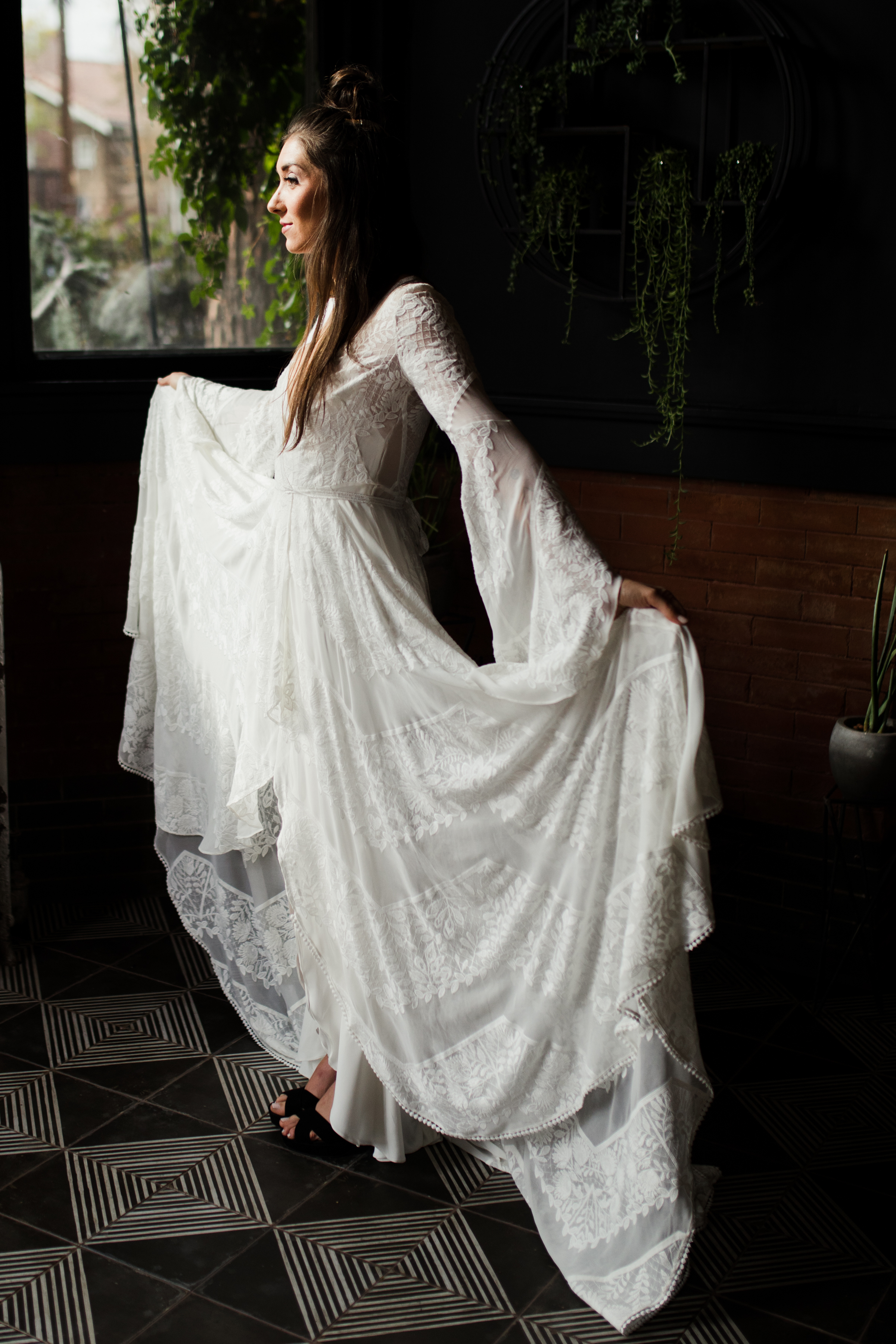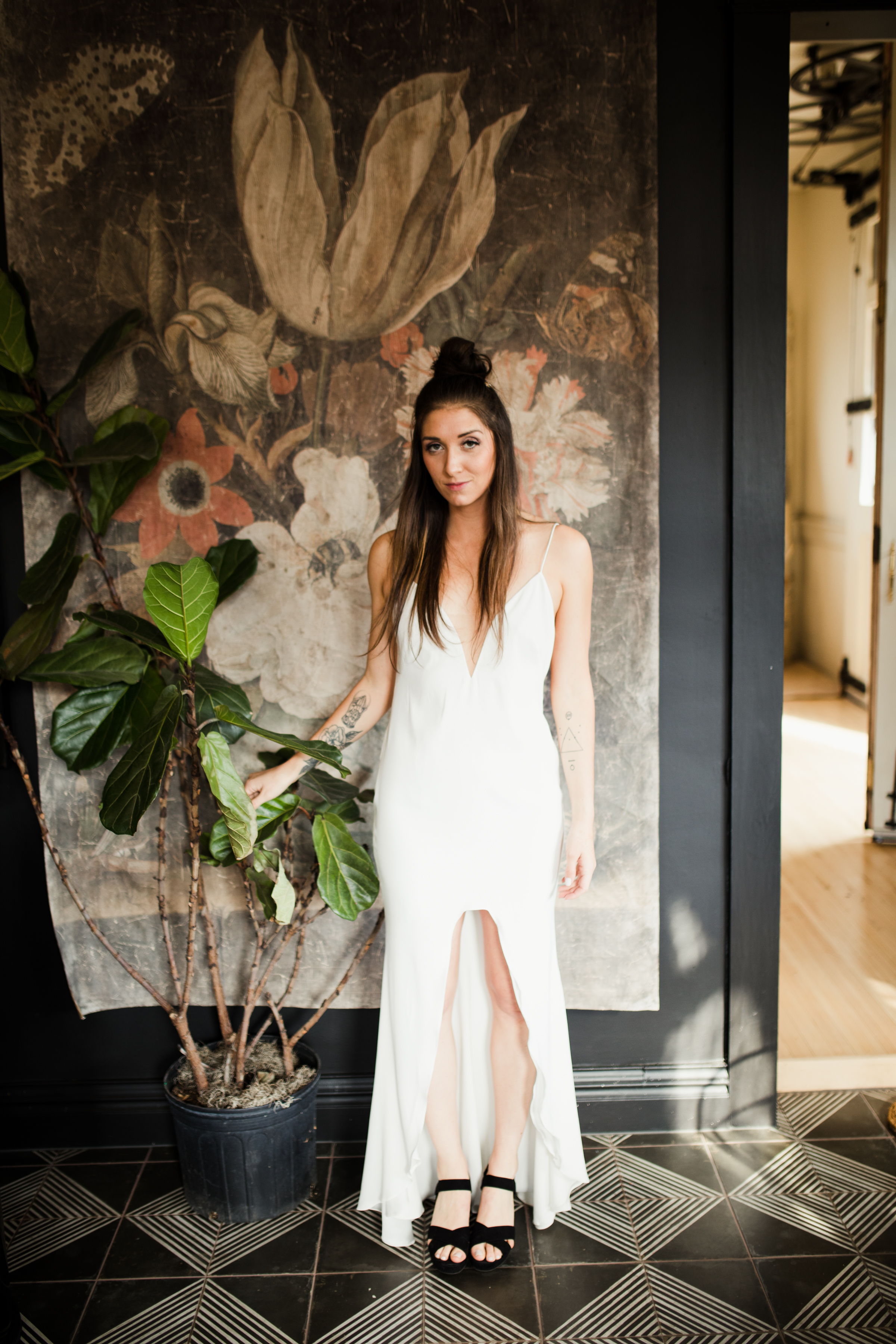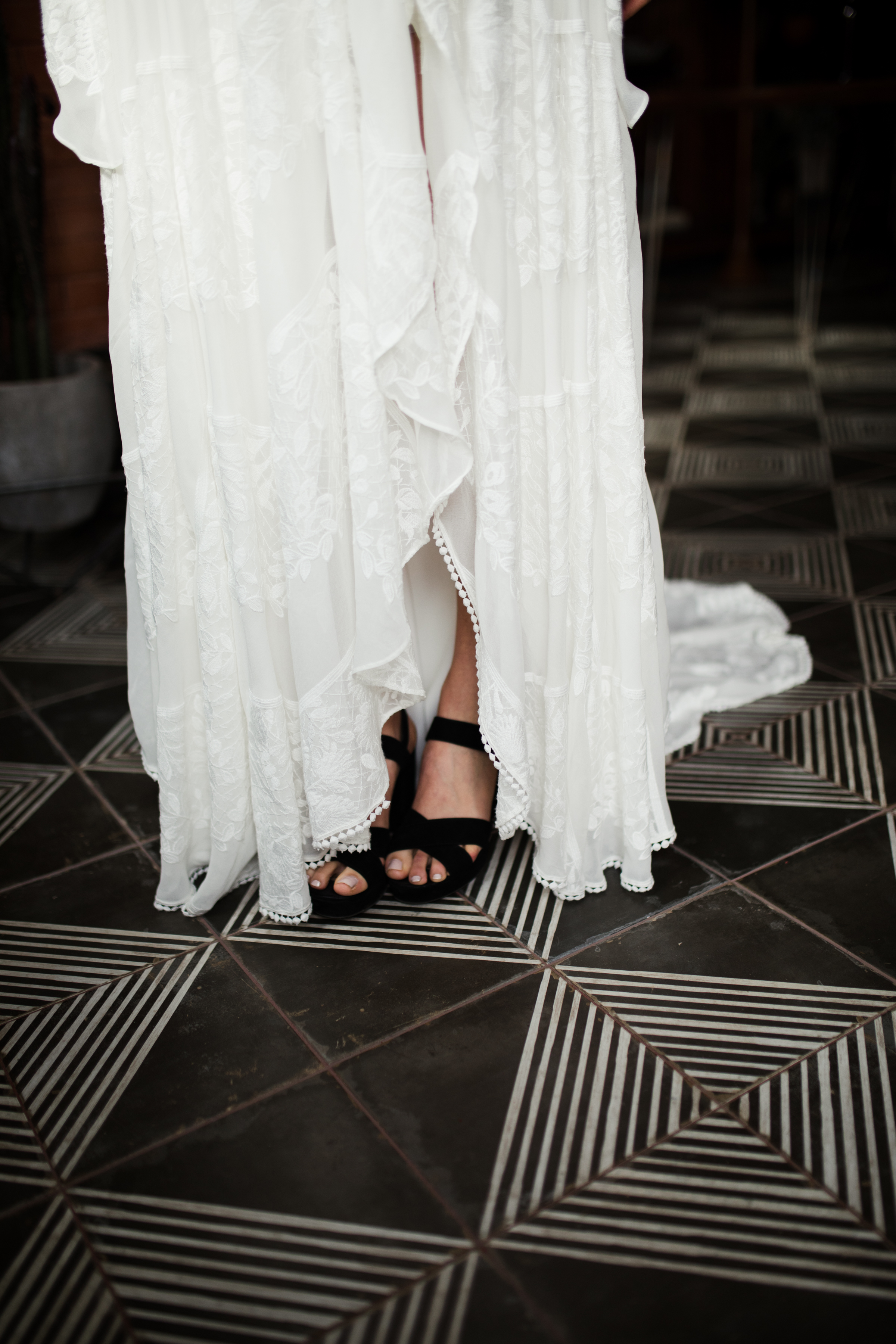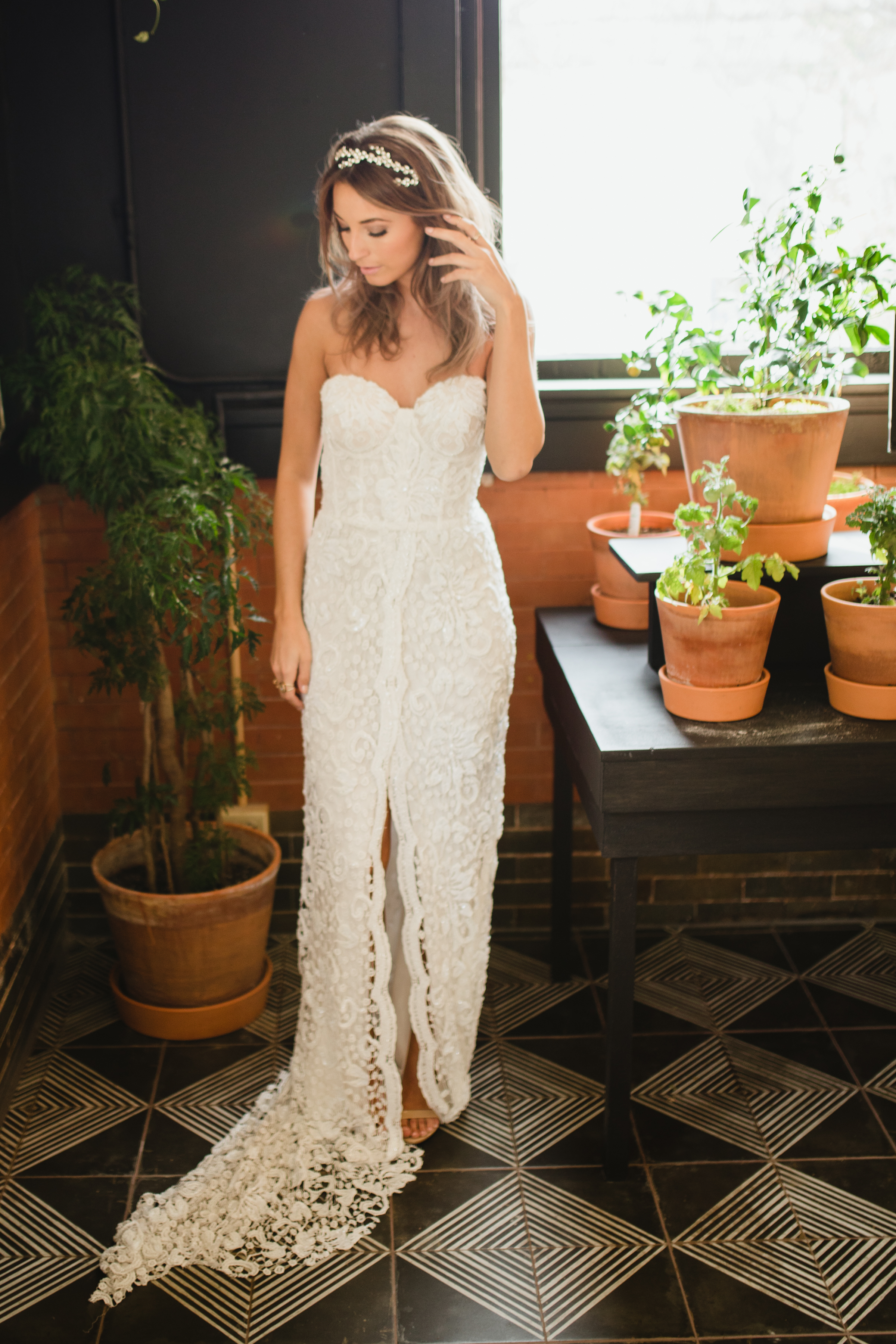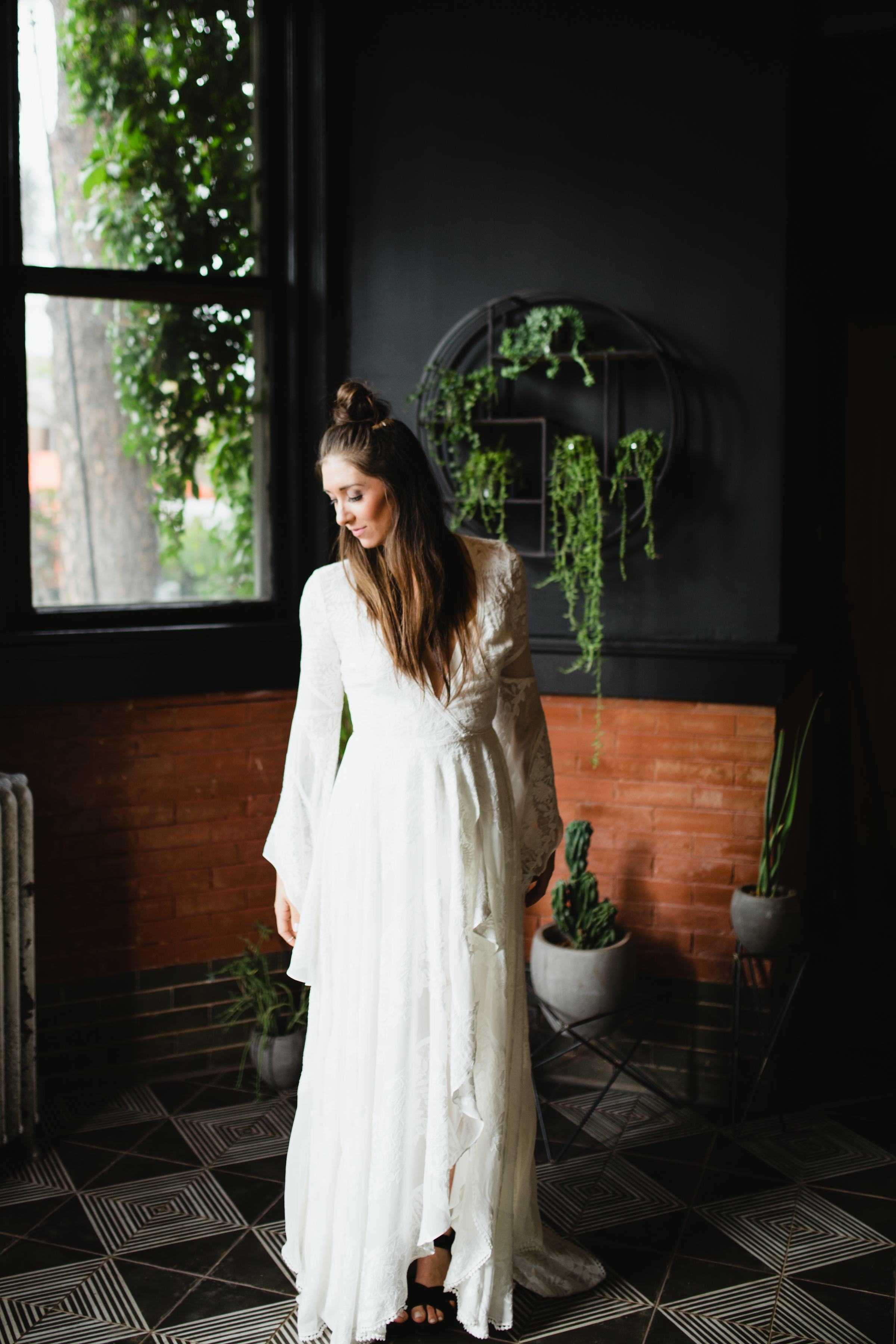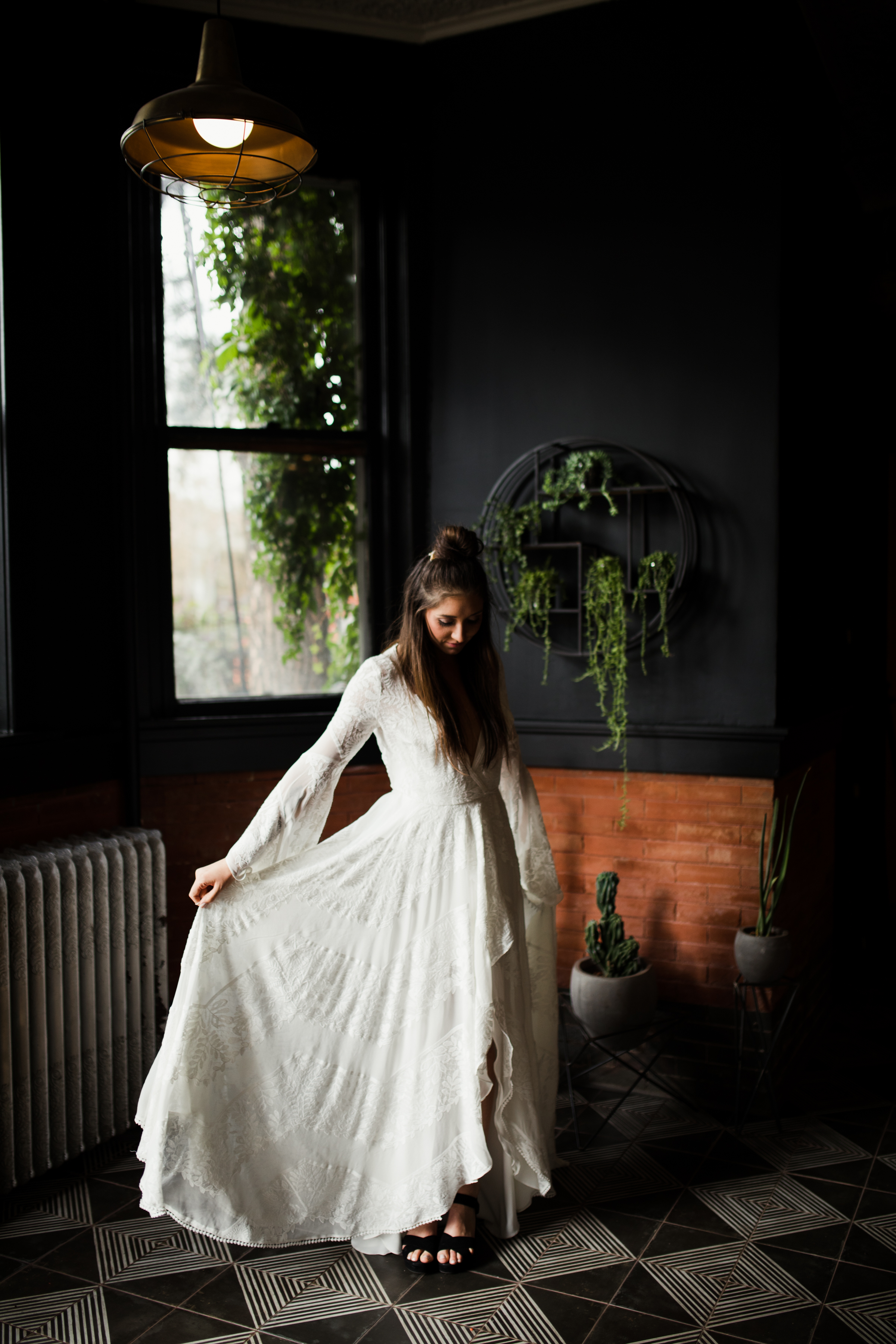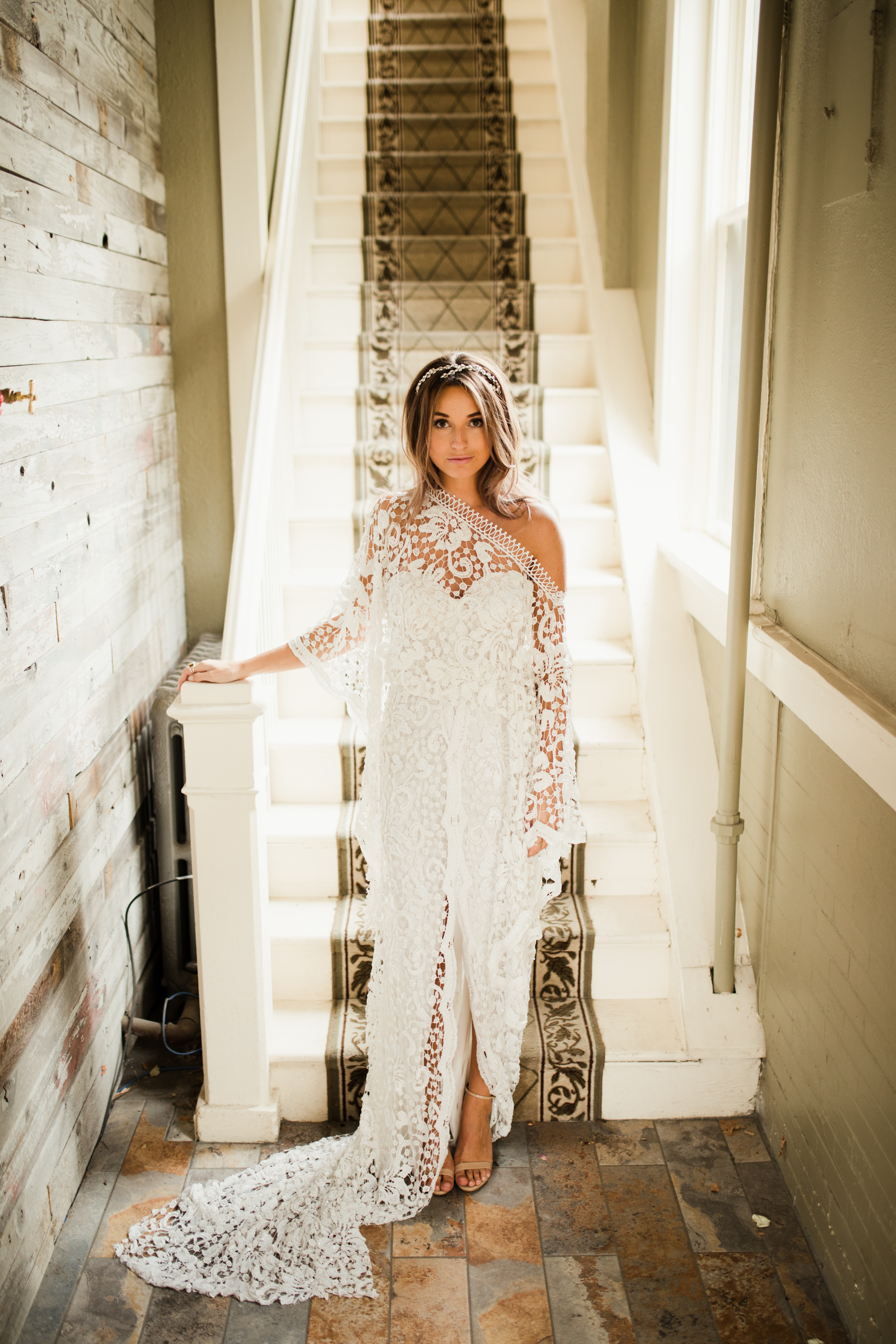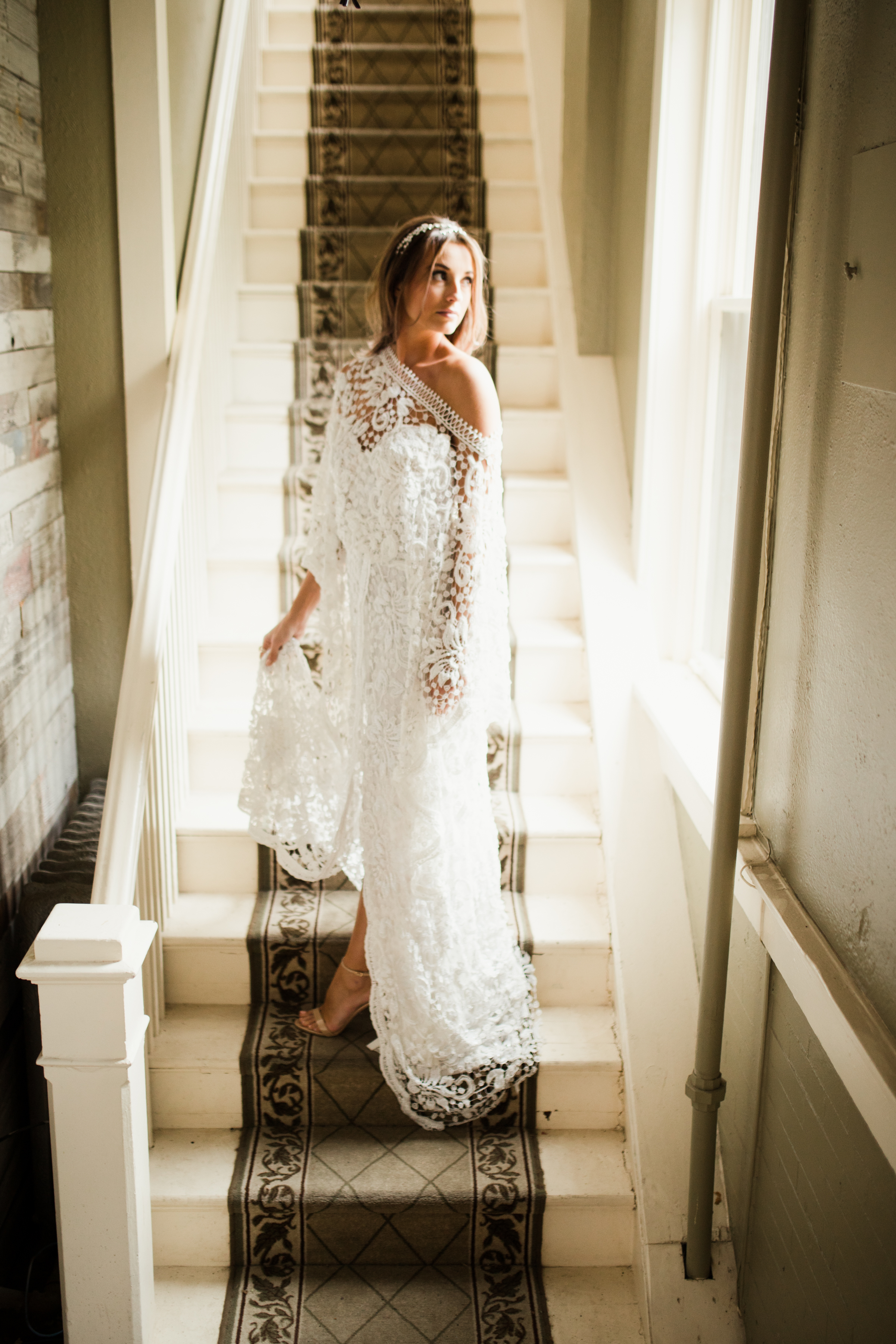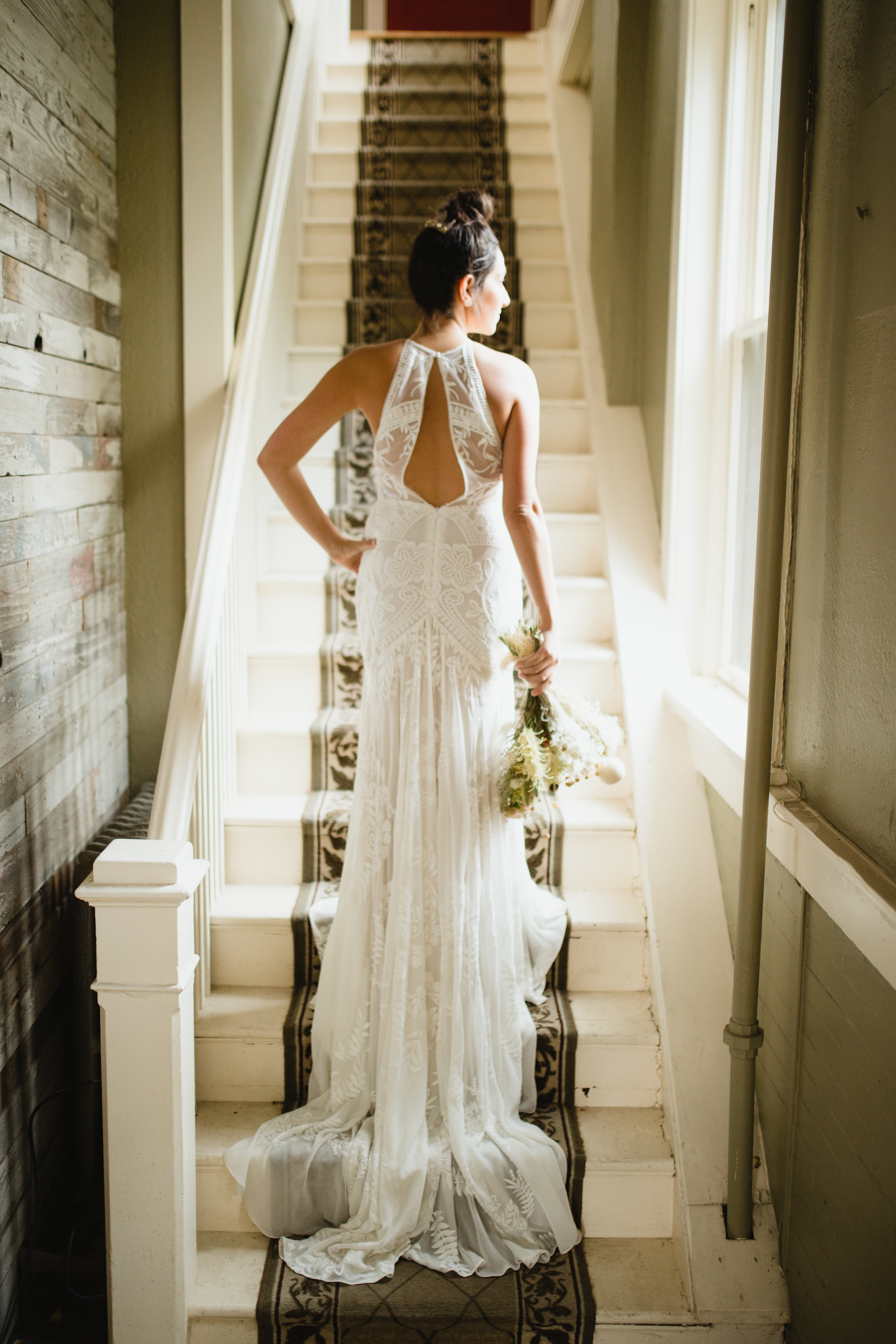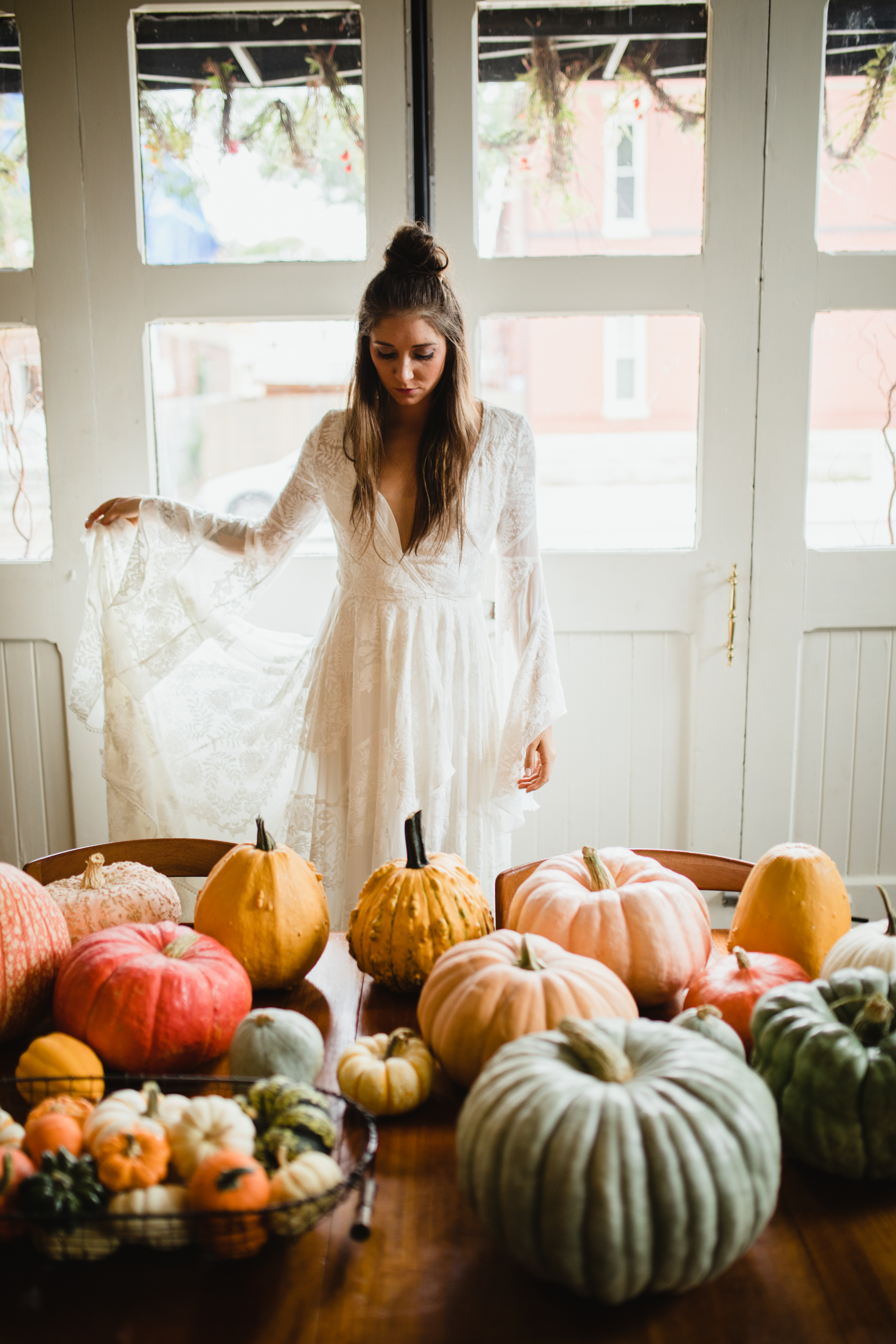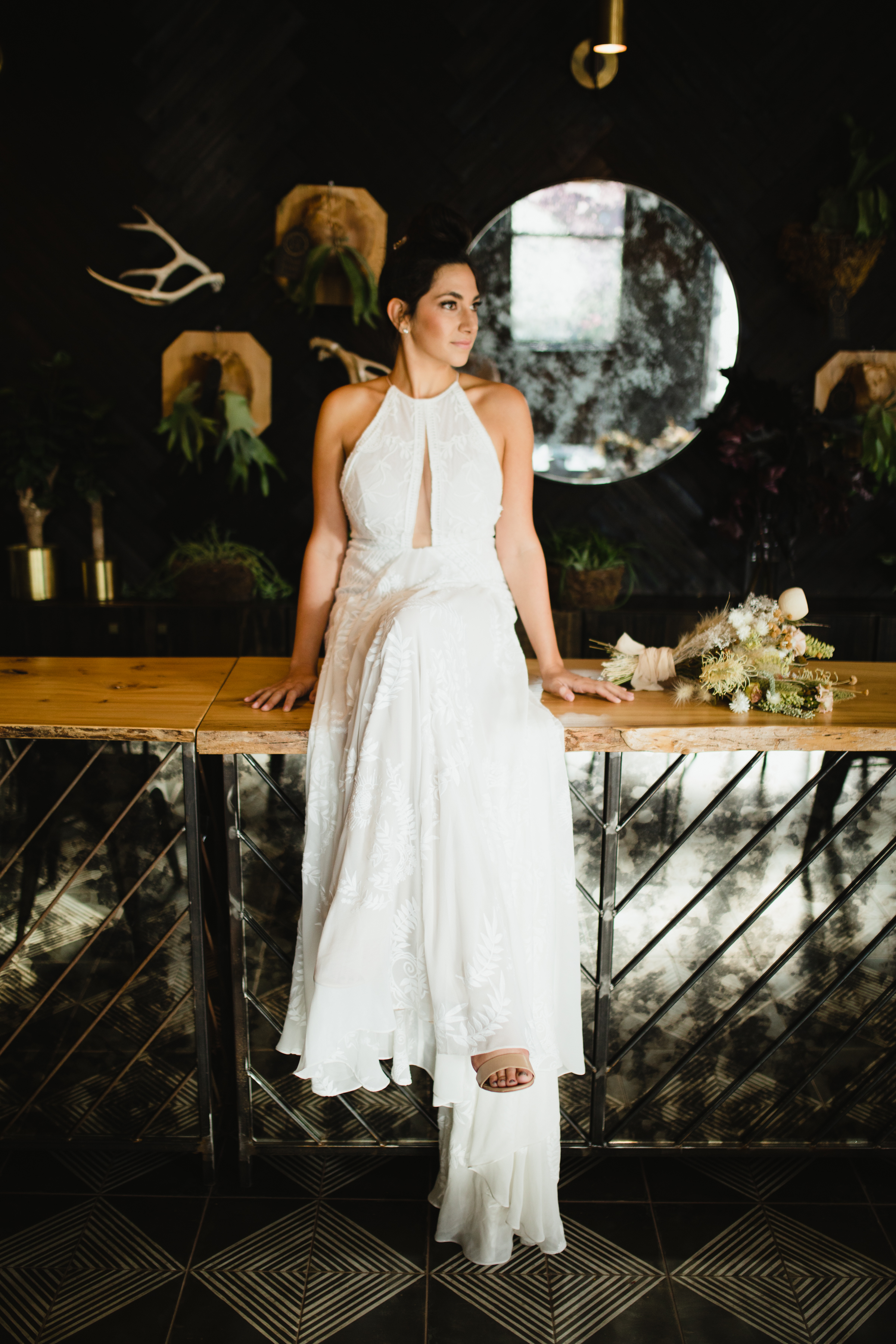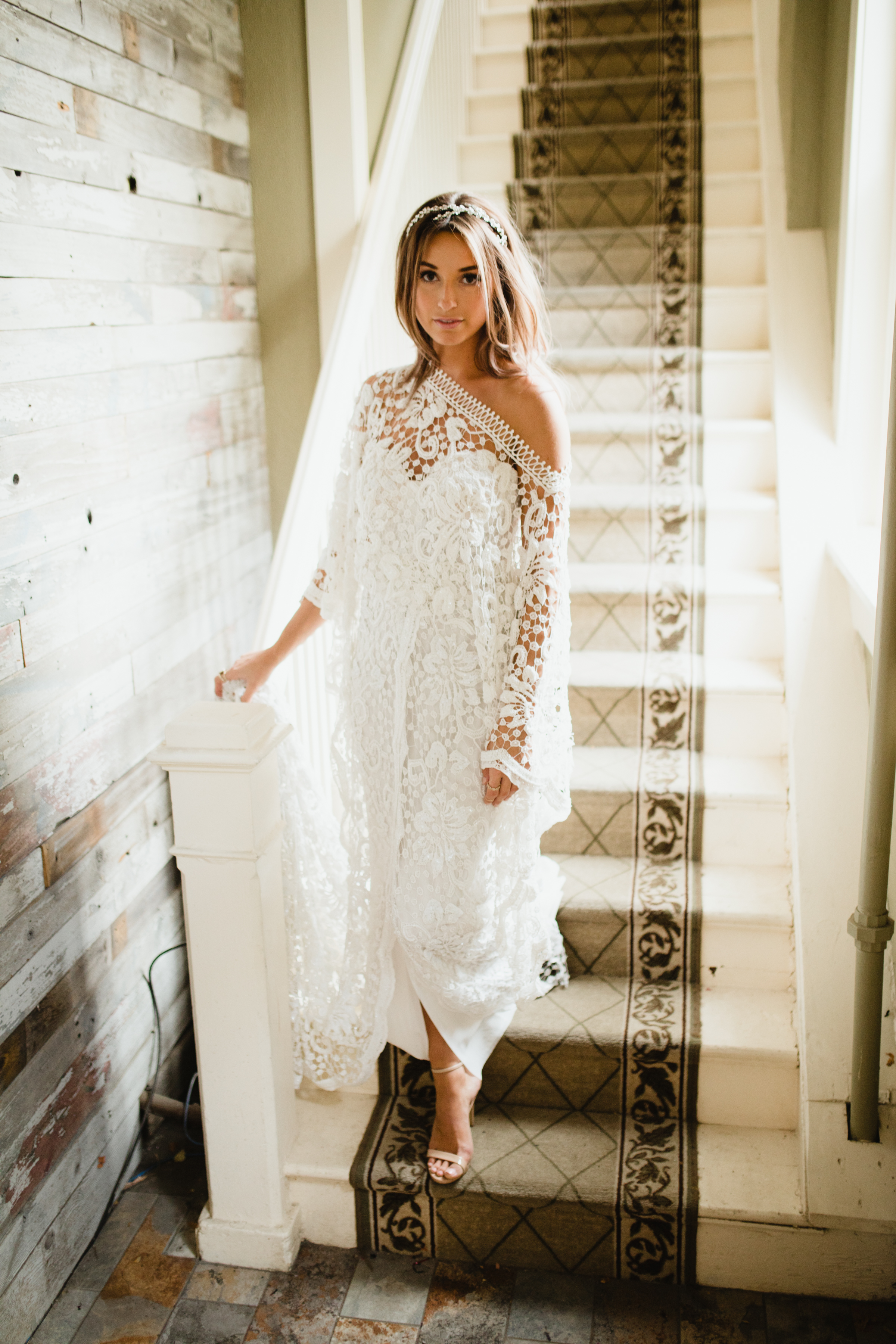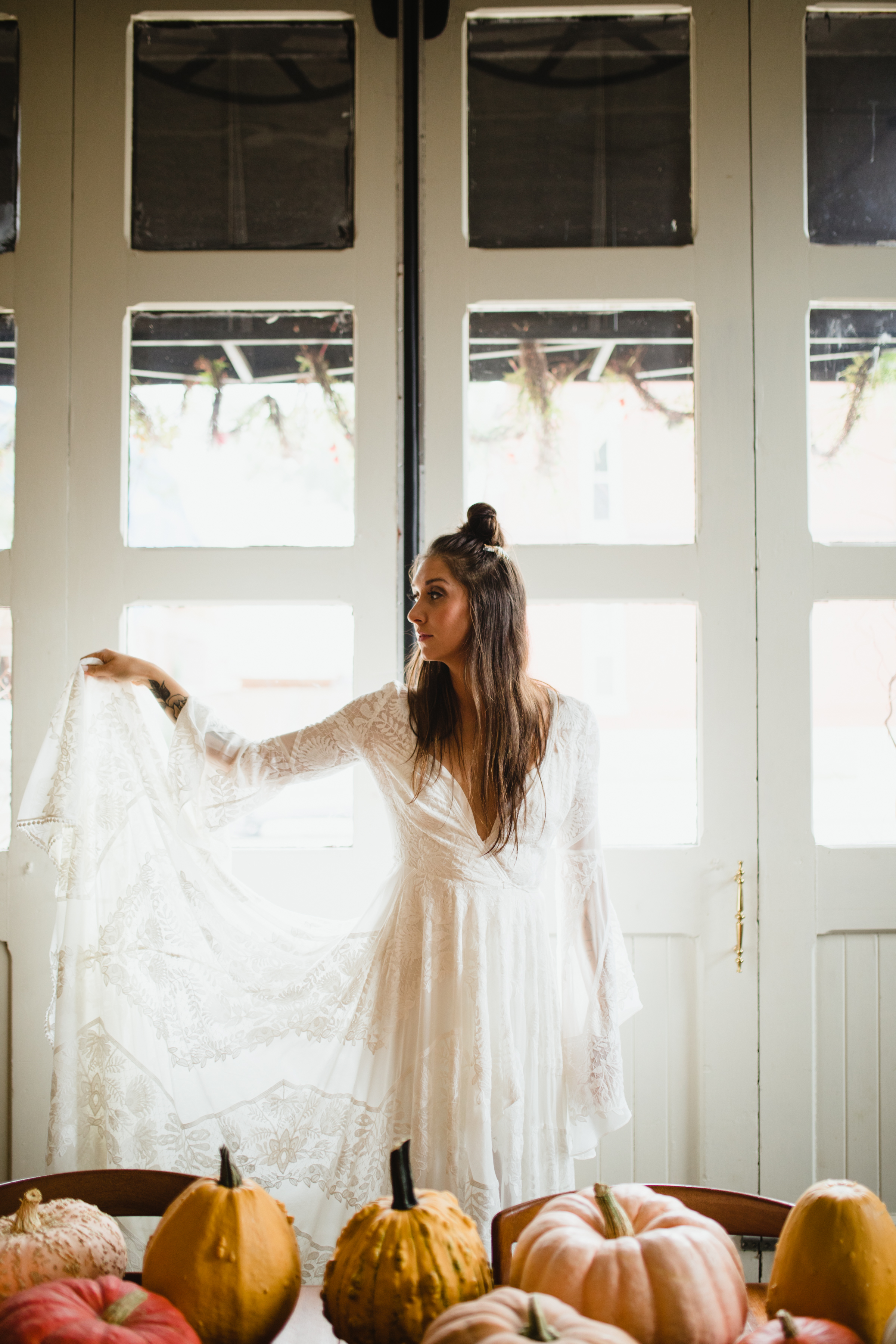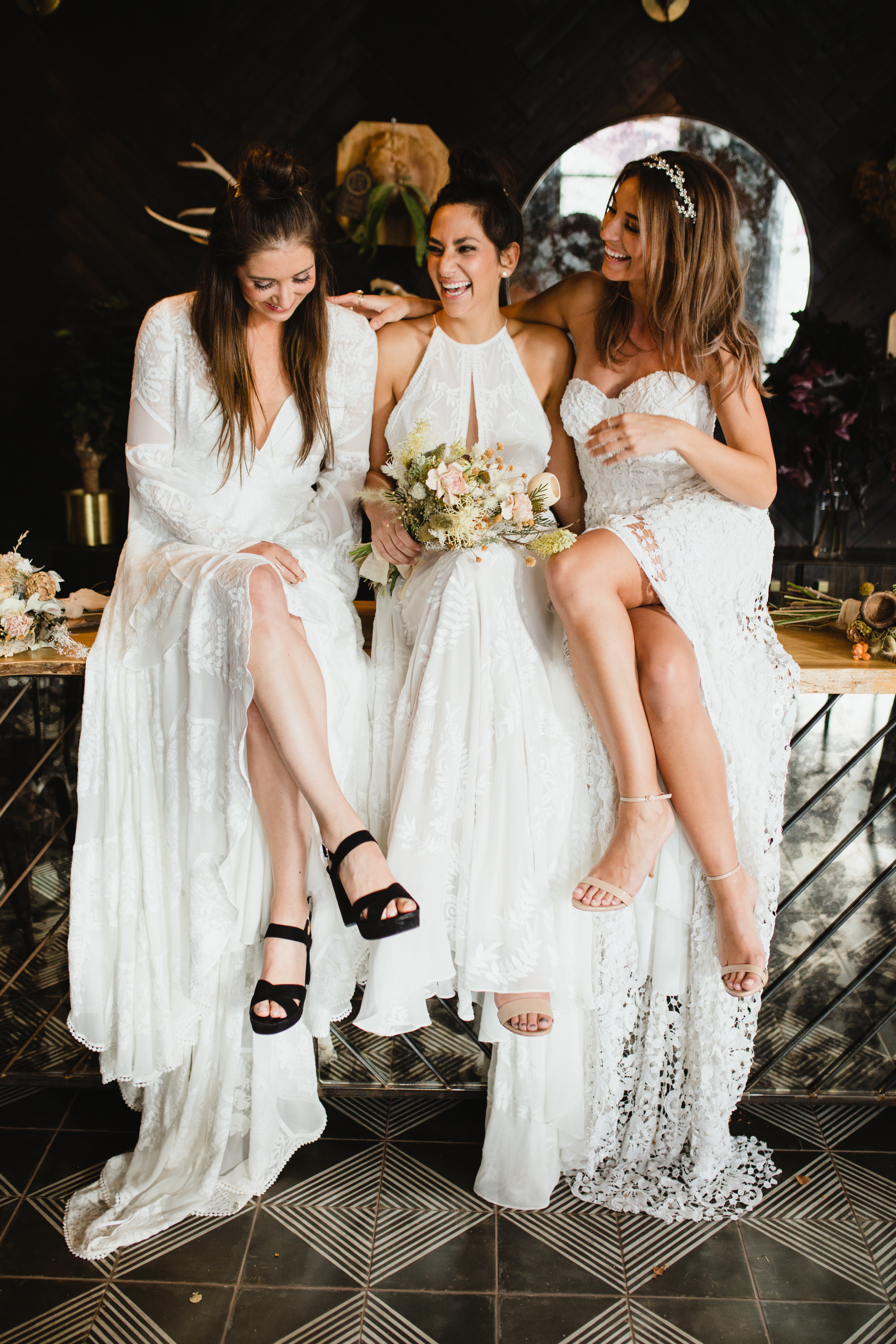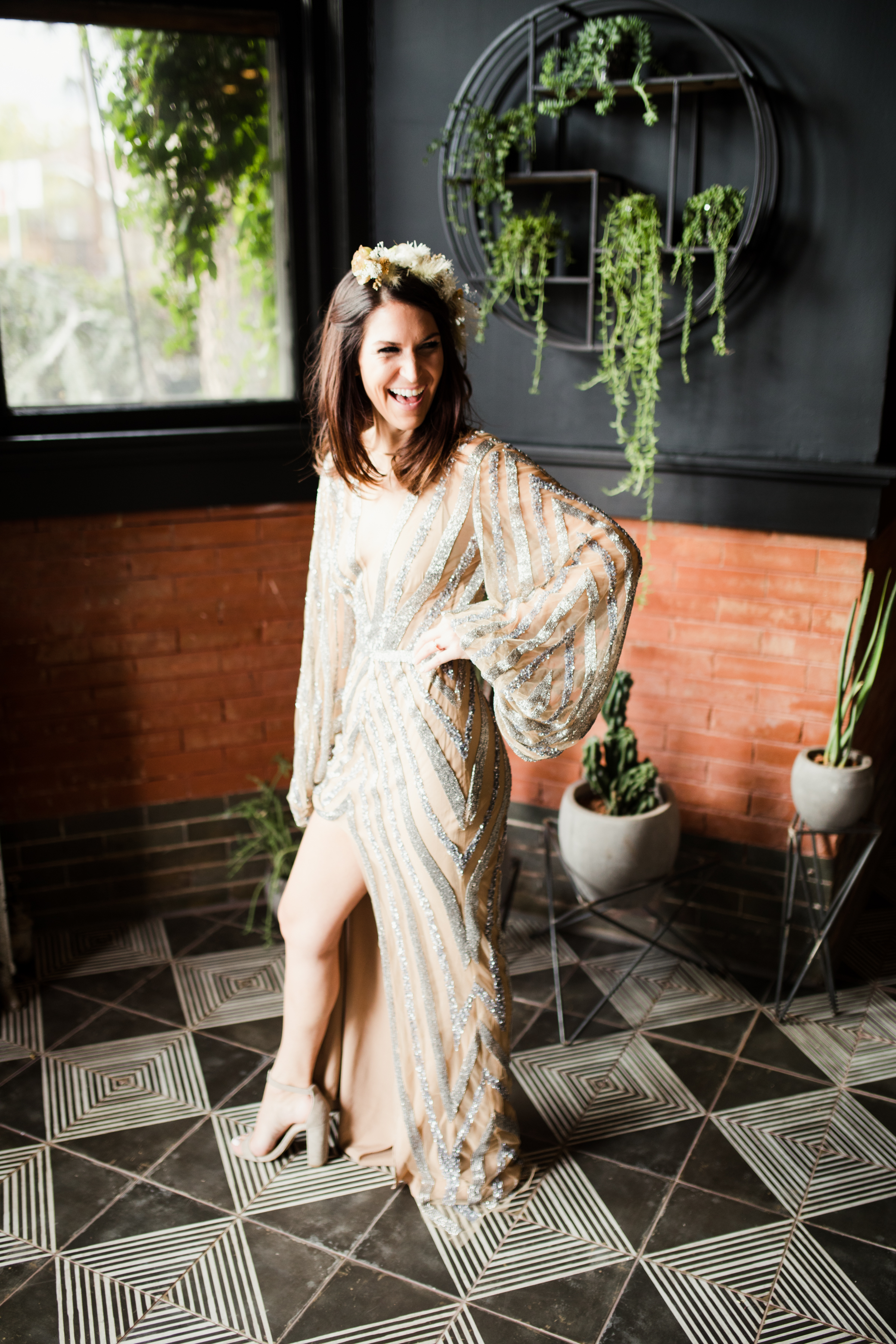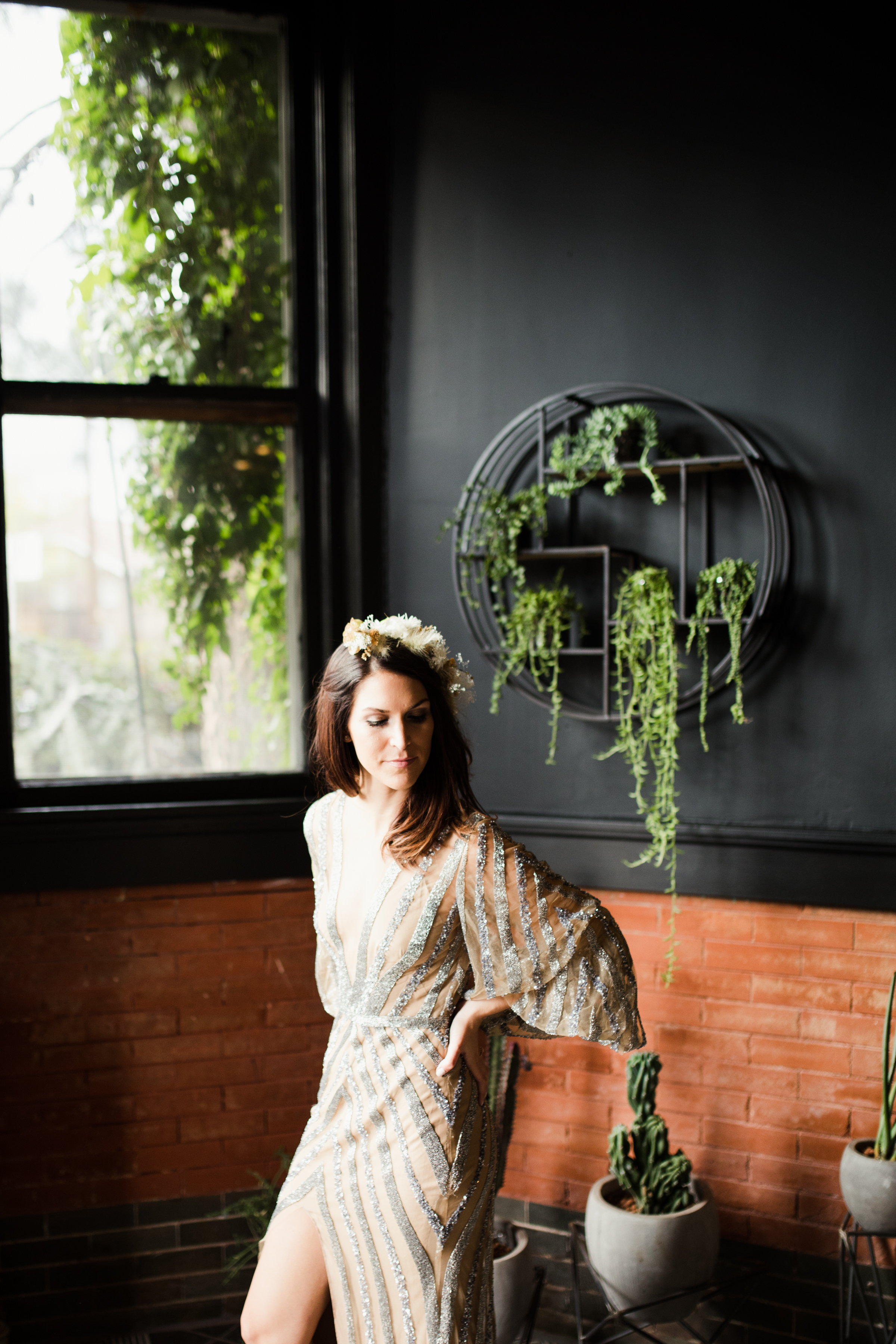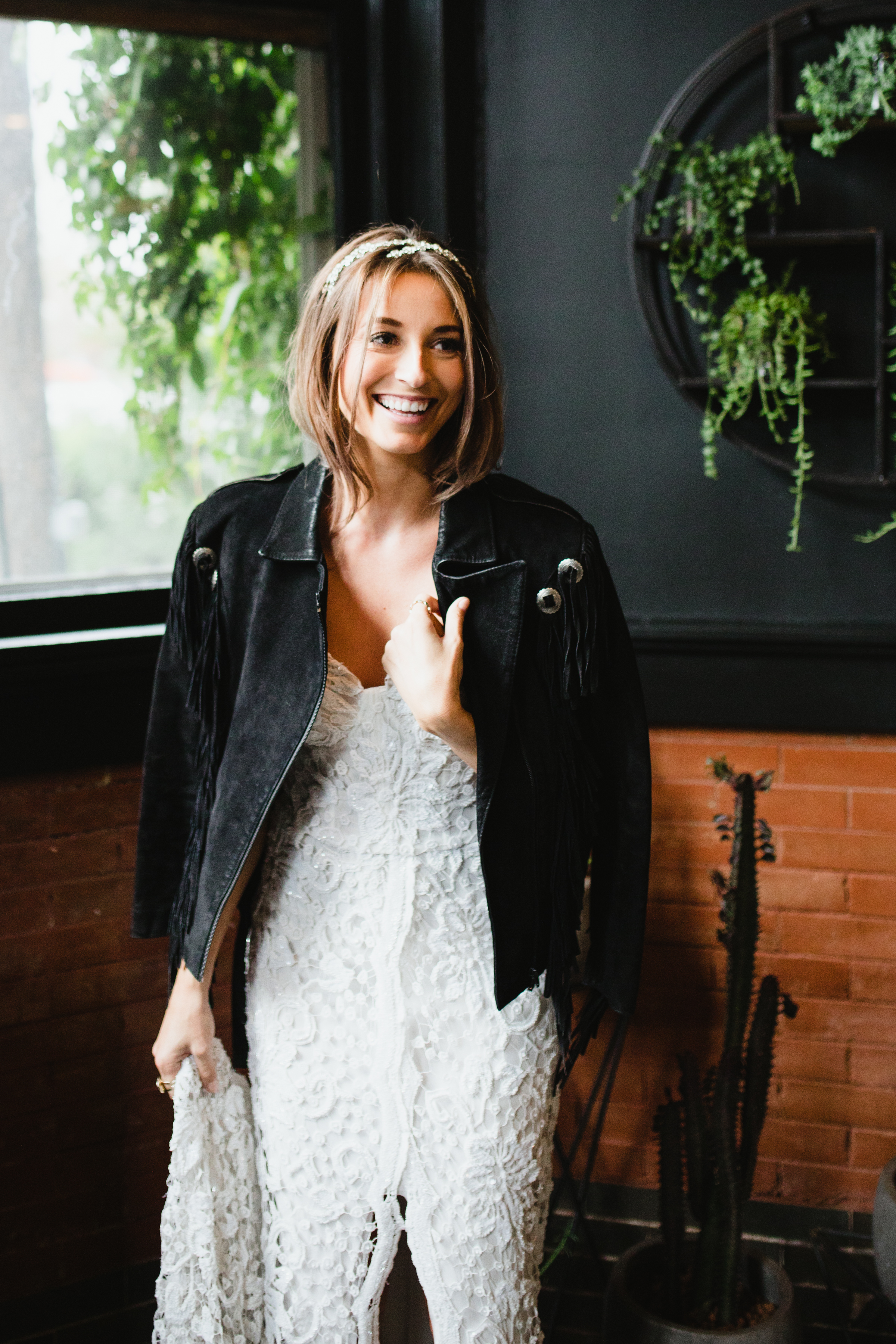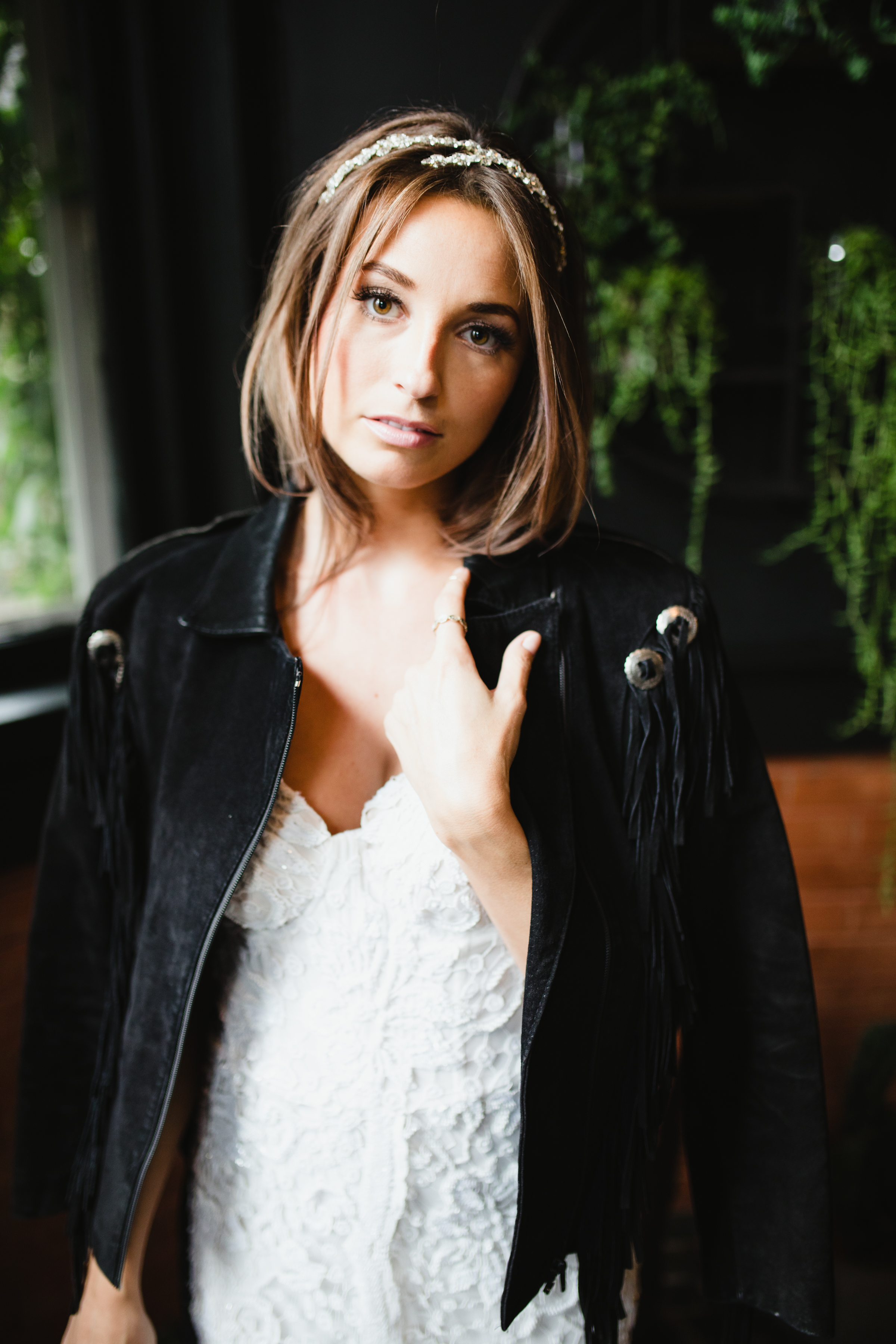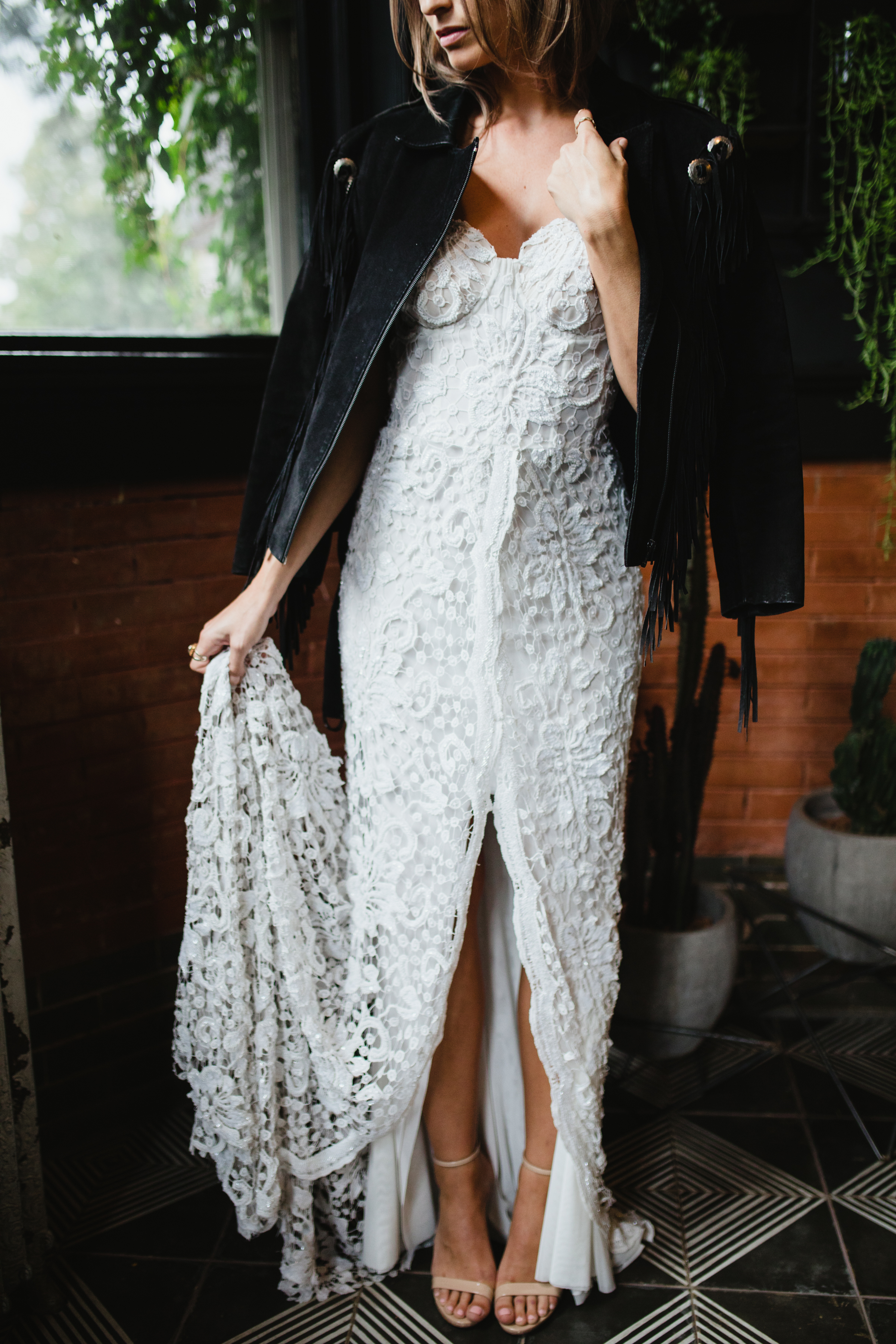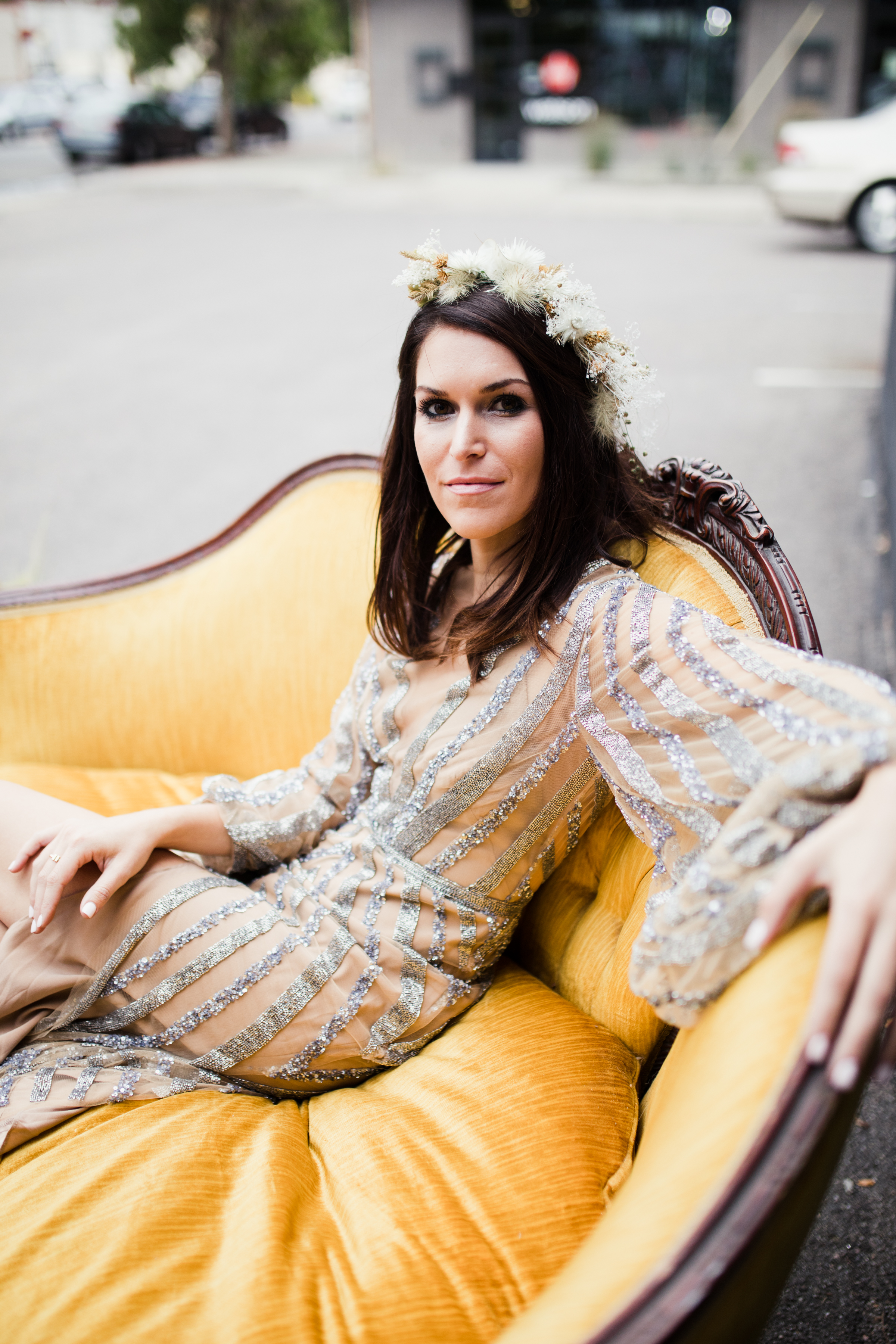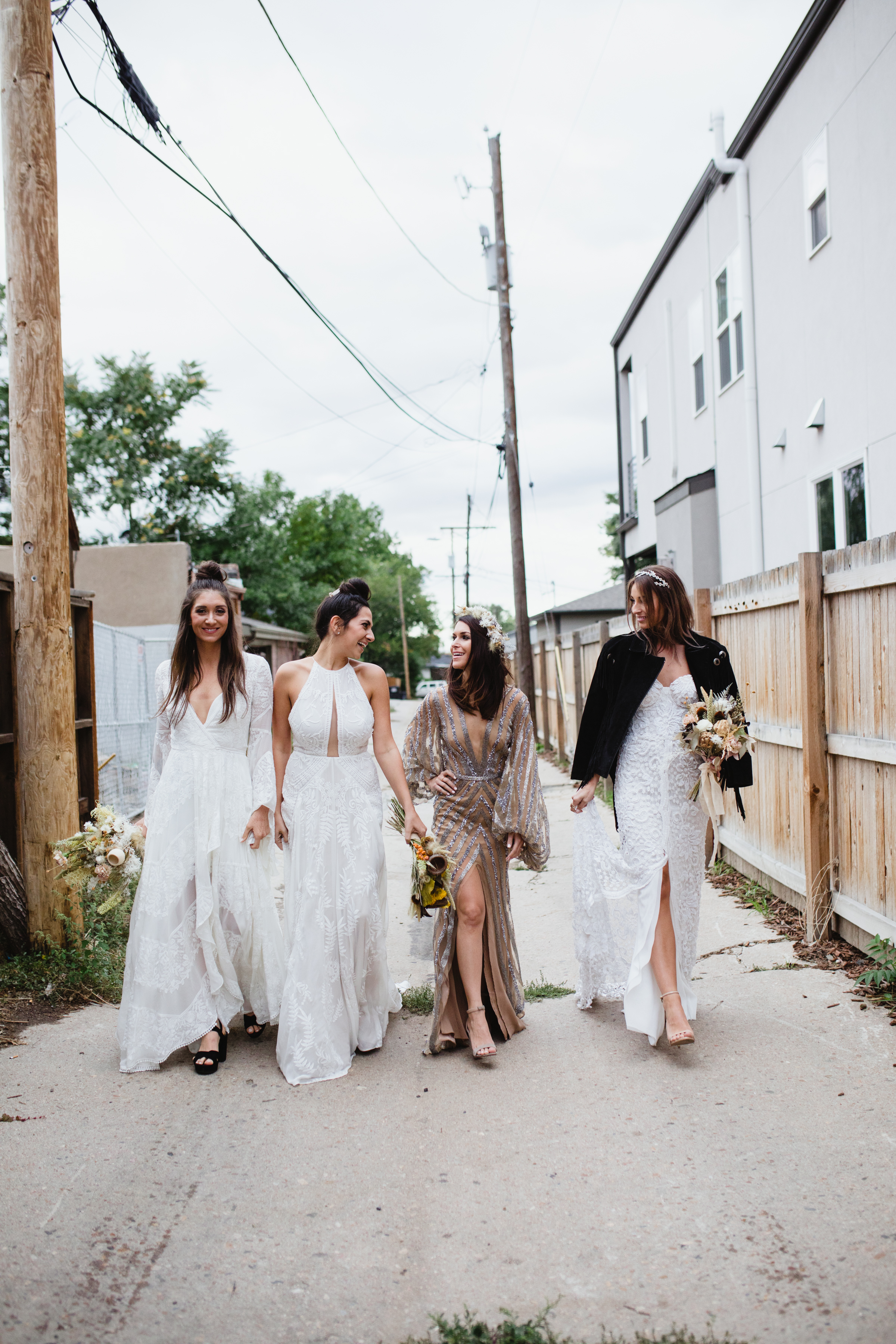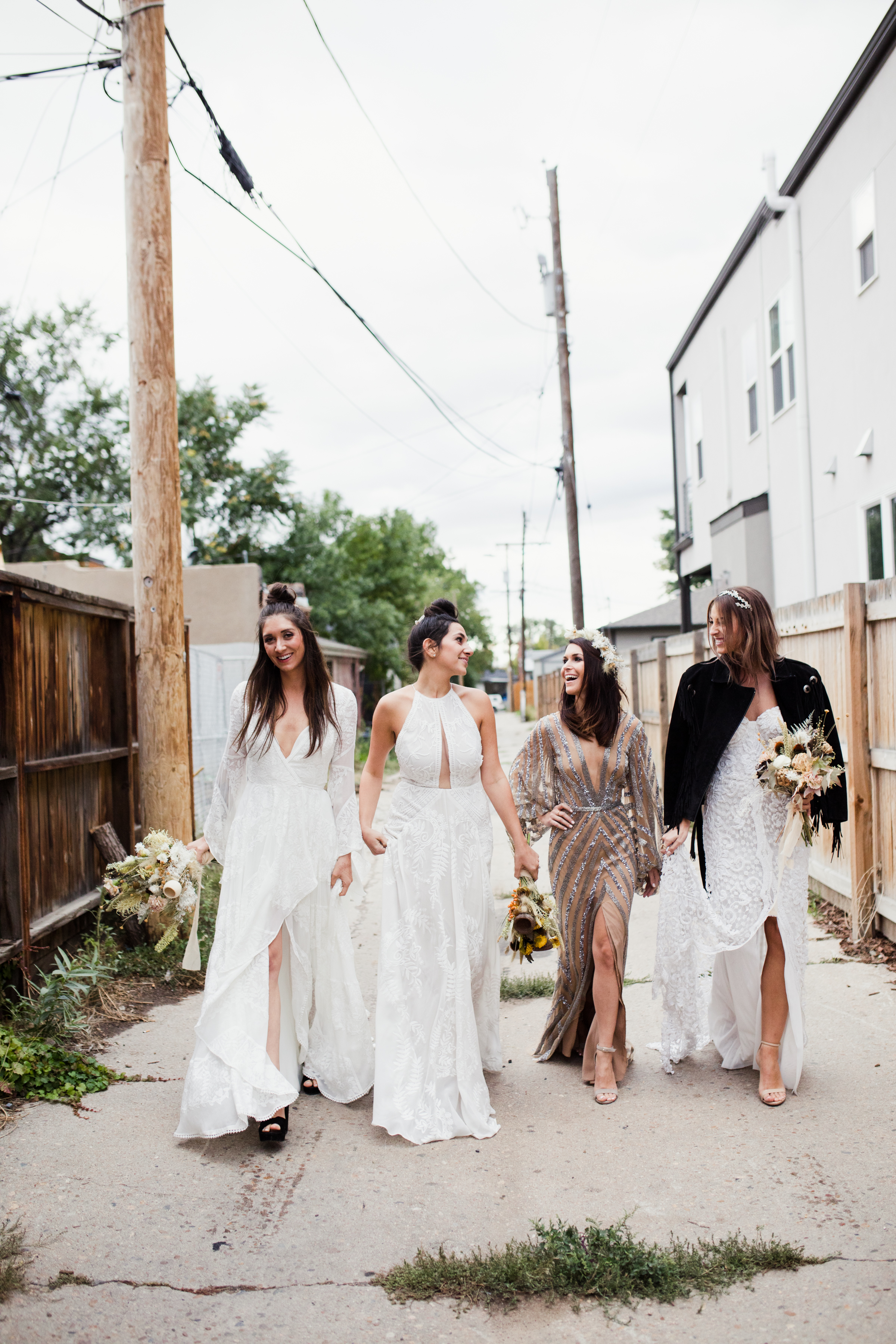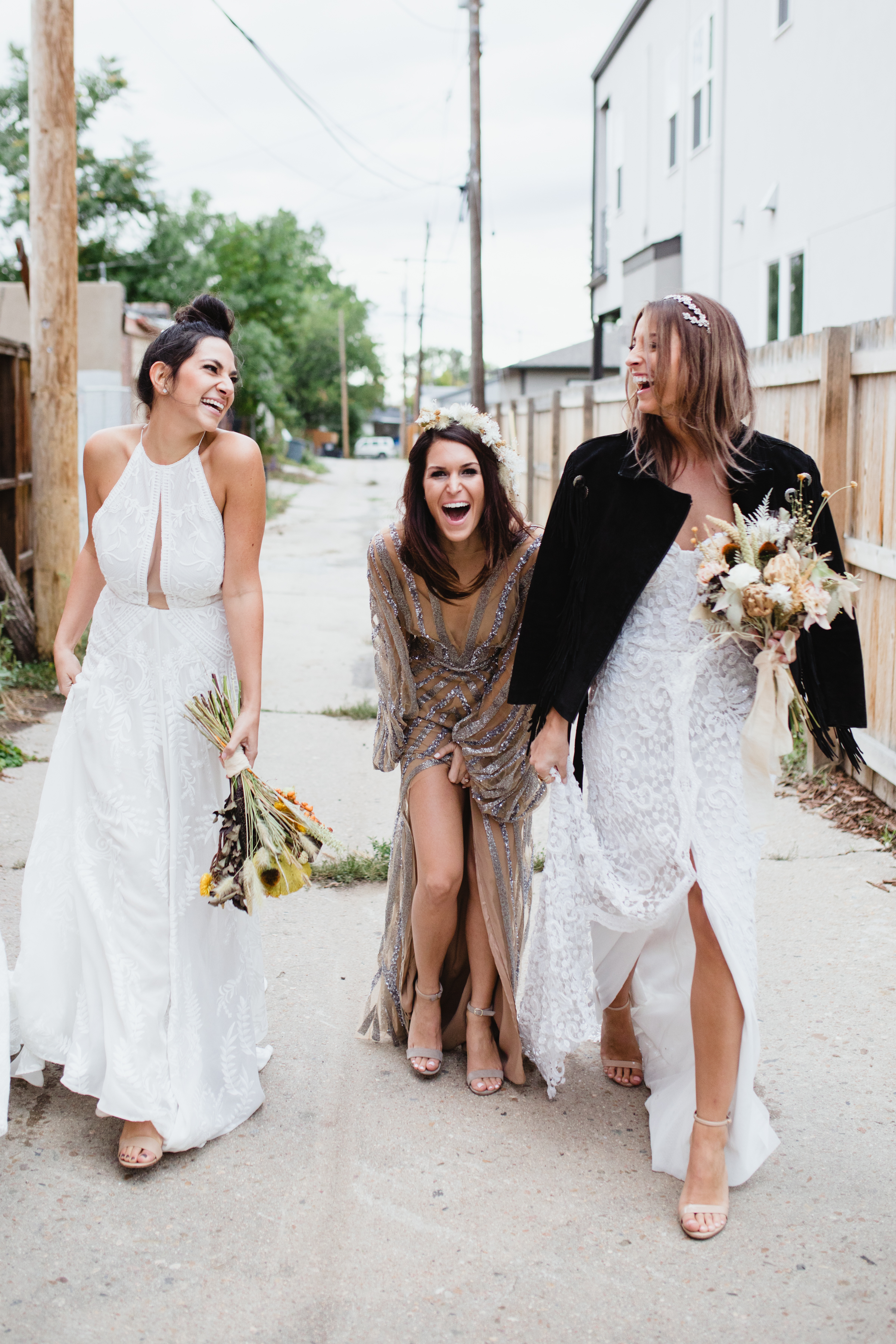 Our #aandbabe stylist team seriously fangirls whenever we get the chance to hang out with the creative force behind Rue De Seine, and for this event, our #aandbabe brides who have already worn their Rue De Seine wedding dresses for their big day, joined us to celebrate and share some of their amazing wedding photos. We love the fact that a bride's relationship with us doesn't just end the day they pick up their bridal gown. Once you become an #aandbabe, you're part of our family for life! Brides who were still on the hunt for their dream bridal gown also attended and were treated to a sneak peek of the new collection, and of course, yummy treats and cocktails from Little Bites Bakery.
When our Denver bridal shop's doors opened for this once-in-a-lifetime soiree, guests were floored by a bohemian dream come to life. The incredibly talented Yonder Floral and Decor House adorned every inch of the space with the essence of 'Moonlight Magic'. The crowning jewel was a larger than life crescent moon that made the perfect backdrop for our gorgeous models from Fierce45 Denver to lounge around in. (The a&bé stylists also jumped this photo op - obviously!)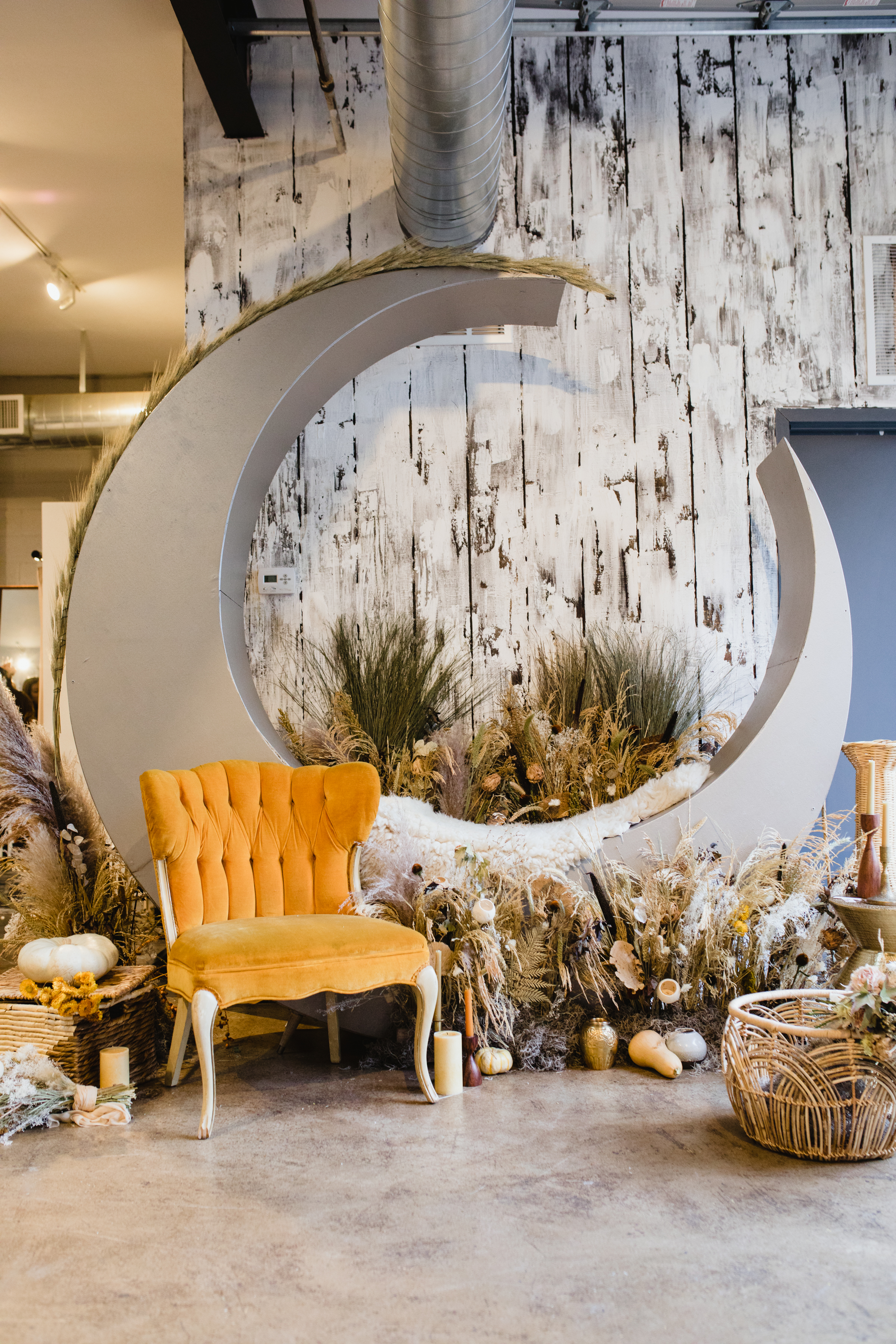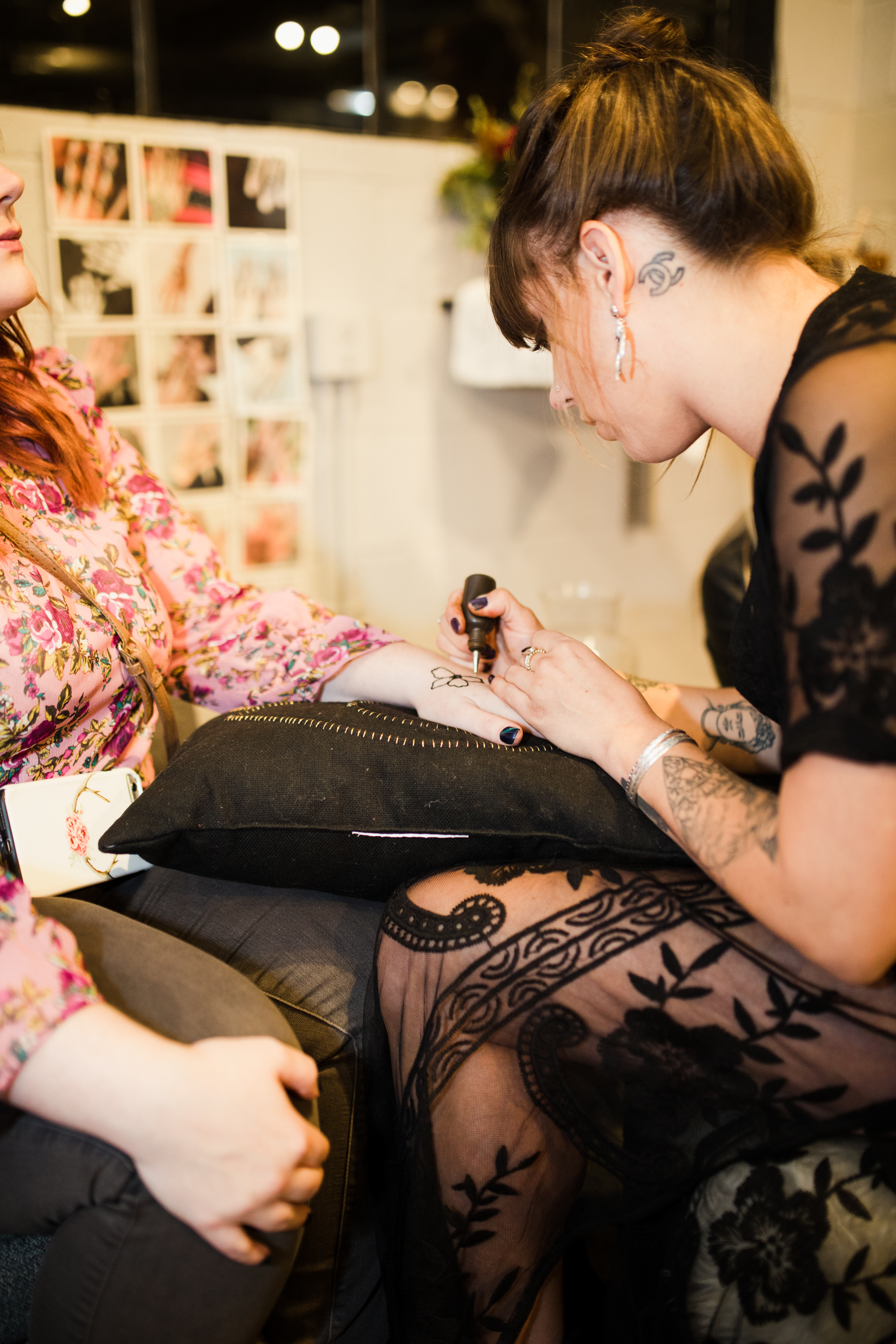 The most epic part of this night was being able to soak up the awe-inspiring talent of so many amazing professionals in the Denver area. Colorado brides: you seriously are so lucky to have such an incredible talent pool of wedding professionals in this city.
While guests perused the wedding dress collection, they were entranced by the perfect beats by DJ Elise, and had the chance to have Henna Luna adorn them with some serious works of art. As if that weren't enough, guests were treated to some seriously killer prizes that were raffled off by Denver's bridal shop manager, Kaitlin and our fantastic partners. We doled out gift cards from The Frye Company, Fig & Yarrow, Cycle Bar LoHi, Fierce45, Midnight Rambler Boutique, and the Storybrick Salon. One lucky #aandbabe even walked away with a custom jacket by Details Delivered, and another won a custom Jay Davis Clutch. Possibly the most enviable prize was a handmade veil from the new Rue De Seine wedding collection that was presented by Michele herself.
If we didn't say it enough before, the absolute best part about this event was that the fabulous designer of Rue de Seine, Michele, was able to not only attend the launch party, but be present the ENTIRE weekend to meet past and future brides and add that extra sprinkle of magic that follows her everywhere she goes. Having the designer of one of our bridal collections is always special, but Michele especially brings an extra air of ingenuity and tenacity to our bridal shop whenever she visits. What a great way for brides to meet the designer behind Rue de Seine's one-of-a-kind, hand-drawn patterns and embellishments that make every wedding gown so special. We are SO appreciative that Michelle could fly out all the way from New Zealand to spend some quality time without a&bé brides and stylists. (Michele if you read this - please come back soon!)
If you missed the party, don't fret! The a&bé bridal shop in Denver has a specially curated collection for our Denver and Rocky Mountain wedding brides at the Denver store. Call us or book online for an appointment. We can't wait to share this magical collection of wedding gowns with you!